09:06, 09 November 2023
"Metal-Expo'2023: Highlights of the second exhibition day.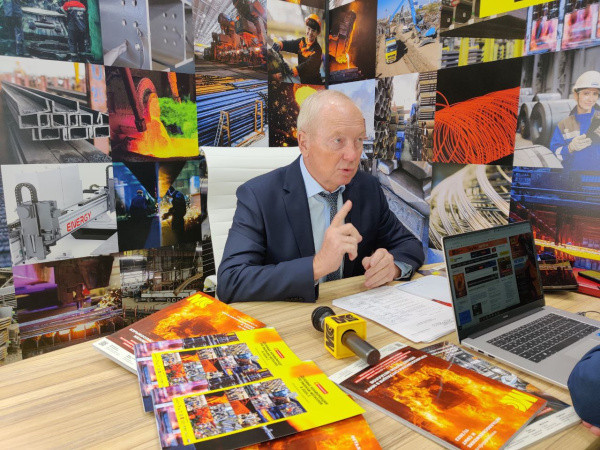 Over 10 thousand people visited Metal-Expo'2023 on its second day, November 8. General directors of the largest industrial corporations, supervisors of sales and procurement divisions of material and technical products consider it necessary to personally visit the forum of metallurgists taking place this week in Moscow.
Thus, on November 8, in the studio of the Together community, Severstal CEO Alexander Shevelev and Metalloinvest CEO Nazim Efendiev discussed trends, challenges and tasks that are relevant for managers in the metals industry today. These include working with customers in new conditions, import substitution, digitalization, and solving the problem of staff shortage. The agreement between Moscow Polytechnic University and Metprom Group of Companies on training managers in the field of investment projects realization in industry, signed today at the exhibition by Gyuzel Sharipzyanova, Vice-Rector for Educational Work of Moscow Polytechnic University, and Andrey Grachev, Director of the Project Institute of Metprom Group of Companies, will help to solve the personnel shortage. Import substitution and development of technological competencies are the subject of an agreement on mutual cooperation between the Bardin Central Research Institute of Chermet and United Metallurgical Company, also signed today.
Metal-Expo'2023" hosted a meeting on the intersectoral program of work to develop new types and improve the quality of steel products for the automotive industry under the auspices of the Russian Ministry of Industry and Trade. More than 120 people gathered at the round table on the market of coated steels. A meeting of the Committee on Metallurgy and Heavy Engineering initiated by the Association "Defense Enterprises Assistance League" was held. The foresight session "Full life cycle effects - a new priority in the creation of strategic infrastructure", as well as the meeting of the Expert Committee on Metallurgy, Heavy Engineering and Mining under the State Duma Committee on Industry and Trade aroused increased interest. The day ended with a colorful award ceremony for the winners of the Metal-Vision video production contest.
Tomorrow the exhibition will continue its work, new meetings will be held and a number of informative and interesting business events will take place.
More details - in the video interview with Alexander Romanov, Chairman of the Metal-Expo Organizing Committee.