16:55, 30 June 2023
SteelStructures'2023: The High Business Activity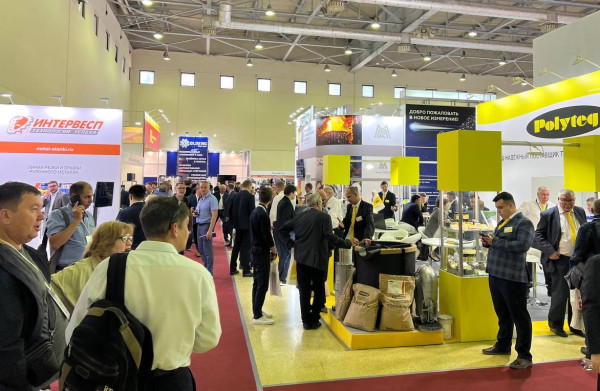 SteelStructures'2023, a forum for manufacturers and suppliers of steel structures, steel products for the construction sector, and equipment, as well as end users of their products, and Metallurgy'2023, Litmash'2023, a complex of international industrial exhibitions, were held on June 6–8, at Expocentre Fairgrounds, Moscow, Russia. The trade fairs aroused considerable interest, gathering together more than 300 exhibitors and more than 8,000 industry professionals. Visitors noted the high business activity, and guests had the opportunity to evaluate the diversity of the new production facility expositions as well as meet with participants from China, Turkey, India, and other countries.
Steel construction development in Russia has received a new impetus for further promotion. According to the Roadmap, prepared by The Ministry of Construction, Housing, and Utilities (Minstroy of Russia), the plan has been updated to expand the use of metal in the industry. The Agency approved an Action Plan to improve technical regulation in the construction of facilities using steel structures for 2023–2026, not only in the construction and manufacturing sectors but also in civil engineering. At a time when manufacturability, speed of construction, and quality assurance come to the fore, Steel Frame house Construction is constantly attracting the increased interest of Russian developers and construction firms. According to a study by the Infoline Agency, in 2026–2027, 5–7% of the total volume of new residential buildings will be built from metal frames, and their share will be 20% by 2030. The expansion of the structural metal market will also be promoted by port and road infrastructure projects as well as the creation of agricultural infrastructure. Based on presentations at the SteelStructures'2023 exhibition, total domestic demand for structural metal products will annually increase by about 10-20% in Russia.
Steel products manufacturers and suppliers, among them NLMK, MMK, Severstal-Metiz, Rechickij Metiznyj Zavod, Novinsky Steel Structures Plant PSK, Tula Metal Rolling Plant, Etalon Metal Structures Plant, Steel Construction, Group of Enterprises, D&POS, State Enterprise Konus, Profile, Group of Firms, Tochinvest Zinc, A GRUPP Steel Structures, Kazan Steel Profiles, Zinker, ARS-PROM, high strength fastener manufacturers - Parallel and ZVK BERVEL, Korolevsky Pipe Works, Chelyabinsk Zinc Plant, etc., exhibited new types of products and solutions for the construction industry.
Exhibitors noted that the majority of steel structure factories and industrial enterprises capacity utilization resources are fully utilized. Demand is ultimately established by the new construction of logistics warehouses in the biggest marketplaces and industrial facilities. Along with the industrial and infrastructure sectors, the largest demand for metal structures comes from social projects—medical, educational, social, and sports centers. Compared to other materials, prefabricated steel buildings can be constructed quicker, saving money and time. In addition, there is a great increase in the consumption of press-welded gratings, hot-dip galvanization, steel road safety barriers, and light towers. Specialized equipment and engineering services for the production of metal structures are now in particularly high demand in the Russian Market.
During the three days of SteelStructures, the extensive exhibition business program included more than 15 events, covering a wide range of issues, from the production and application of metal structures through marketing and engineering. The exhibition platform provided the professional community with an opportunity to exchange views and discuss trends, current issues, and topics related to metal construction technologies. The large number of visitors from China, Turkey, and other countries and the positive exhibitors feedback led to the conclusion that such an event is an important part of the company's annual work.
Welcome to attend Metallurgy'2024, Litmash'2024, SteelStructures'2024, June 4-6, Expocentre Fairgrounds, Moscow, Russia.